Our beloved Tully Boy died March 6, 2014
Visit his pages and make sure you look at 2002 the first year to see his beginning history with us.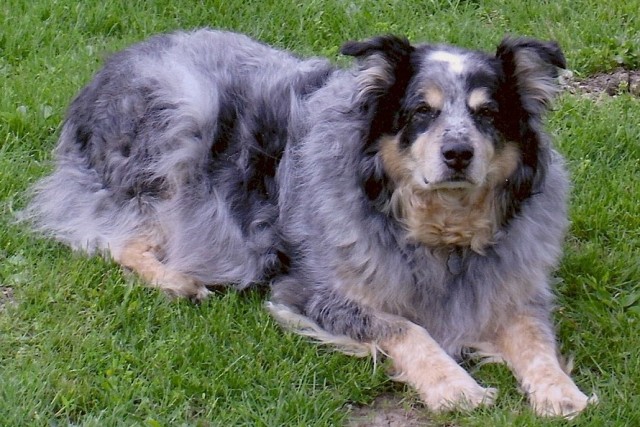 -------------------------------------------------
Cally died about 10 on the evening of February 19, 2009.
She was the last of what I called the "Farm Four".
We rescued her in 1995 when she was abandoned on our road with two puppies.

We moved four dogs from Terre Haute to Attica in 2000.
They were great farm dogs and they transitioned very well because we lived on Betty's place for two years.

They all had a good life and we miss them.

Check out the "Snow Dogs" link on the home page to see Cally and Squeak in action.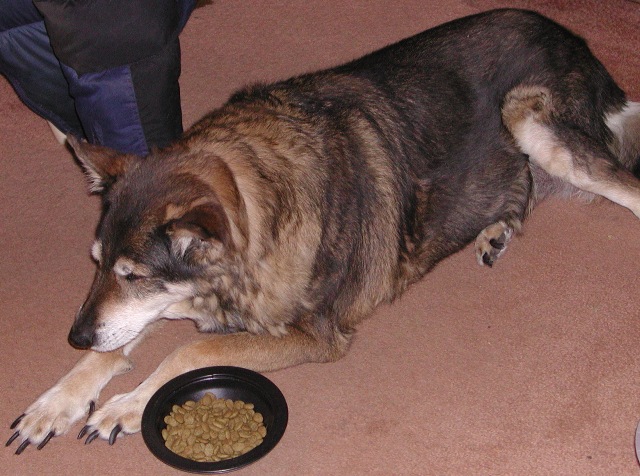 January 31, 2009
________________________________
Lost another of the "Farm Four" on July 28, 2006.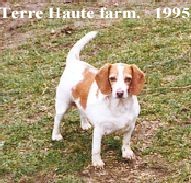 Our little Squeak was tough but her age and many problems finally was too much to overcome.
Survived a lot and was still tough until a few days from the end.
She was so aware that we did not know she had gone completely blind until a couple of weeks before she died.
She was not very active and was able to go in and out through the doggie door without giving much of a clue she was doing it from memory.
Click here for some memories of Squeak
________________________________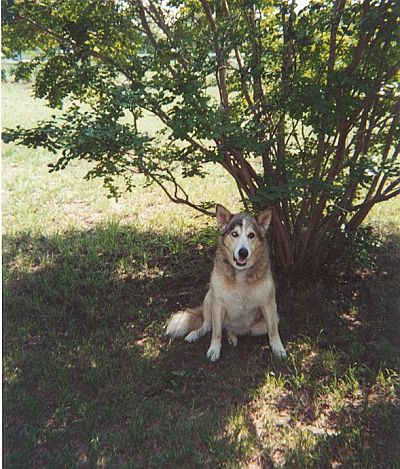 In May 2003 it was sad to have to add Sky to this section. Very sad for Chris.
As always, I intend to add more pictures when I find the time. Below is link to her page.
________________________________
Wolfie and Pete
We have many pictures taken during the 11 years we had Pete and Wolfie.
We keep thinking we will scan more and get them on here but never get it done.
Maybe someday......
The Wolfie and Pete pictures and pages were done soon after each died.
They are the recent memories of them and I suppose the ones dearest to us.
We miss them very much.
Tully has been such a great addition but never a replacement of Wolfie. She was very special.
****************************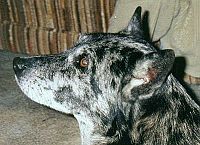 Judy's beloved and loyal companion, Wolfie, died Sunday morning, Feb 3, 2002.
She had not been sick until the morning of Jan 28.
Kidney failure due to age.
She never acted as if she was getting older and ran in the woods until the end.
She was so special and it is difficult to describe what it means to lose her.
Only people who have lost loving pets know the feeling.
Click here to Go to Wolfie's pages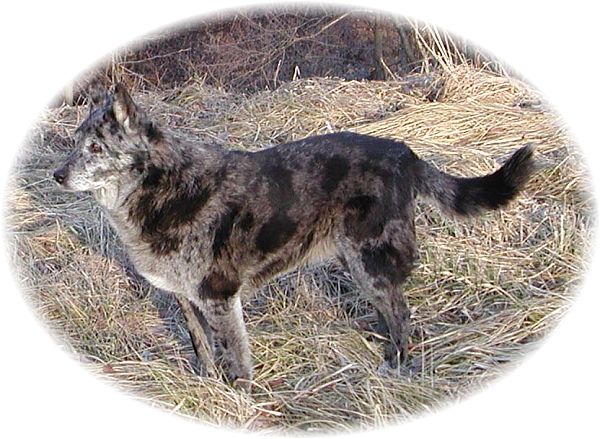 ================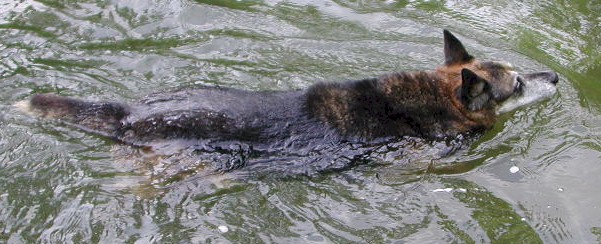 The "Indiana hippo" died Sept 3, 2002. Seven months to the day after Wolfie.
They were buddies for 11 years and we noticed a marked decline in Pete after Wolfie died.
He "adopted" us full grown in the spring of 1991 so must have been over 12.
Some more "Pete" Pics
The memory wall. Wolfie is the third "Wolfie" from the top and Pete is listed as Petebud. We called him Bud as much as Pete so I combined them so I will know where he is on the wall. Just a little way to feel close.
Australian Shepard Rescue information
Tully"s adoption history.
First time
Second time