April 26, 2011-- I was looking at some of my pages and realized that I was on a slow dialup in 2001 when we did this project so it needs some updating for high speed when I get time so bear with the pictures being on separate pages.
Wed August 1
Drywall delivered. Installed bathroom fan and everything else needed done for hanging drywall. They start hanging drywall Thursday morning. Finished cleanup about 6.
August 2
They descended on the stack of drywall and in two hours hung it all. Not exciting pictures but have a before and after shot.
The hangers had not been gone long when Gary Simmons and the fellows started taping. They were done by 2. What a change. Covered up all those boards been looking at for a month.
August 3
Removed old kitchen cabinets and started on that project. This is how it looked before.

August 4&5 Kitchen shots in progress
August 6 More wiring. Hope it will be the last day in attic for a while. Ready to proceed with cabinets so counter can be ordered.
August 7-11 Drywall finish work was completed by Wednesday. Thanks to the great work by Gary and the crew.
Most wiring changes also done in old section. One entire day spent on cleanup and prep for the arrival of painters on Friday. Painting of the new addition and re-painting of the old rooms was completed by Sat afternoon at 3:30. "Crash" and Robert worked until midnight Friday night then 7:30 to 3:30 Sat. They did a great job. The way I paint it would have taken me at least a week to do that much and you would not have wanted to see my work.
Now ready to attack the addition again. Having the painting done starts the last phase of completing the project. Also in a waiting mode for countertop, two cabinets and vanity top. All have various arrival times ranging from next week to sometime in 2003 depending upon who you believe. My advice is to always buy off the shelf. All that fancy stuff on display but not in stock is just to fill up the space in the showroom and not meant to be purchased. One item ordered July 20 for arrival week of August 10 was overlooked and not ordered until August 6 after I called to get status of shipment. Now it will not arrive until week of Aug 20.
August 12-18
Painting, wiring, doors, trim, final floor in laundry and on and on.
Carpeting scheduled for week of 27th
Sept 1
Wayne and Larry finished the carpet yesterday.
My camera settings were not right for capturing the colors but pattern and concept of the finished work is shown




Three above shots are progress of same corner.
Carpet3 Pattern
Sept 1 evening update. Finally put up last cabinet. It was an
important one since it went above the stove and now could
put the stove where it belonged. Also did the hood and vent
through the ceiling. After that we attached counter top on
West side and installed the sink.
November 8. Only thing remaining on addition is guttering and some dirt work along foundation. Look at before and after Pictures
Check out the Thanksgiving pictures to see how the inside finally looked.
December 16. Not much of an update since the Thanksgiving rush. I moved all the water system into the garage. Old pressure tank and filter were in the crawl space. Not fun if you had to turn off water. Now have access to all.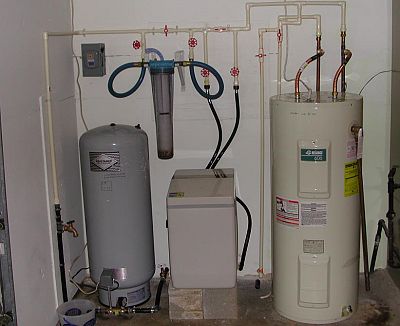 Home